Erica Herman's Brave Stand: Unveiling the Truth Behind Tiger Woods' Alleged Sexual Harassment
The recent news about Erica Herman, Tiger Woods' ex-girlfriend, bravely accusing him of sexual harassment is a powerful reminder of the importance of raising our voices against abuse and power imbalances.
A recent report by the U.S. Equal Employment Opportunity Commission shows that 81% of women experience sexual harassment in the workplace, with many remaining silent due to fear of retaliation or career damage.
In a recent court filing, Erica Herman, an ex-girlfriend of golf legend Tiger Woods, accused him of sexual harassment.
Herman claims that Woods pursued a sexual relationship with her while she was his employee and then forced her to sign a non-disclosure agreement (NDA) to keep her job. According to Herman's attorney, a boss imposing different work conditions on an employee due to their sexual relationship constitutes sexual harassment.
📲
We may earn commissions from ads and links on this page.
The court filing comes as part of a dispute between Woods and Herman, which began after their breakup in October. Herman, who worked at Woods' restaurant in Jupiter, Florida, initially filed a lawsuit against the trust established for Woods' residence, alleging an oral tenancy agreement and claiming over $30 million in damages after being locked out of the home.
Herman's attorney, Benjamin Hodas, states in the court document that Woods pursued a sexual relationship with his employee, forced her to sign an NDA or face termination and then tricked her into leaving her home, locked her out, and confiscated her belongings when he grew unhappy with the relationship. In addition, woods initiated confidential arbitration proceedings in response to Herman's lawsuit, citing the terms of the NDA they had signed.
Herman then claimed the dispute involved a "sexual harassment dispute," causing the American Arbitration Association to suspend the proceedings under a new federal law that invalidates forced arbitration agreements in cases of sexual harassment or assault. In March, she filed another lawsuit in public state court against Woods, asking to be released from the NDA and citing the same new federal law.
Legal experts advised Herman to provide more detailed allegations of sexual harassment or abuse to avoid going back into private arbitration. Her Friday filing claims that Woods made her housing availability conditional on having a sexual relationship with him, which she argues is sexual harassment under federal and Florida fair housing laws.
Woods' attorney, J.B. Murray, denies Herman's claims and has not yet responded to a request for comment. Murray has previously referred to Herman as a "jilted ex-girlfriend," making baseless accusations, and has called for the case to return to private arbitration as stipulated by the NDA. Herman's attorney, however, notes that while she may be entitled to compensation under a sexual harassment claim, she has not brought this case to recover damages from Woods.
---
New Mexico State's "Deuce" Benjamin and Shak Odunewu Open Up About Lawsuit and Disturbing College Experience
From Associated Press
Ex-New Mexico State Basketball Players Address Sexual Assault Lawsuit in Press Conference
In a recent press conference, two former basketball players from New Mexico State University publicly discussed the lawsuit they have filed against their former teammates. They claim that they were subjected to multiple instances of sexual assault by members of the team. The lawsuit also alleges that when the players confronted their coaches and other authorities with the accusations, no action was taken to address the issue.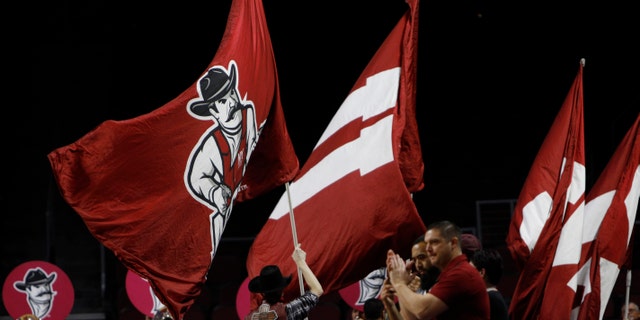 New Mexico State University basketball fans were buzzing with anticipation for the arrival of William Benjamin Jr., known as "Deuce." Hopes were high that Deuce would bring the Aggies back to the glory of March Madness and perhaps even lead the team to the Sweet 16, just like his father did years ago. As the most celebrated recruit in recent history, Deuce was following in his father's footsteps at the college where he was once a star.
However, Deuce never got the chance to step on the court for the Aggies. The reason behind this became shockingly clear during a recent press conference. Deuce, along with his former teammate Shak Odunewu, opened up about a harrowing year filled with violence at the school they once dreamed of attending. They spoke to The Associated Press about the disturbing events that unfolded during their time at New Mexico State, which ultimately led them to file a lawsuit alleging multiple instances of sexual assault by their teammates.
Odunewu shared that when he approached the coaching staff with an eyewitness account of the assaults, they failed to take action against the perpetrators. The consequences of this inaction have been profound for both Deuce and Odunewu. Deuce spoke about the emotional turmoil he has experienced, stating, "I used to have respect for people. I've lost all that now. Pretty much just a lot of anger. I can't put my trust in people, and I've just come to despise people, really."
The events that transpired at New Mexico State have cast a dark cloud over the lives of these once-promising young athletes. Instead of celebrating their achievements and looking forward to successful college careers, they have been left to grapple with feelings of anger, distrust, and isolation. It is now up to the legal system to determine the fate of their lawsuit and the impact it will have on the university and its athletic programs.
The heartbreaking story of Deuce Benjamin and Shak Odunewu serves as a reminder of the importance of addressing allegations of assault and misconduct within collegiate athletic programs. It is essential for institutions to foster safe and supportive environments where athletes can thrive both on and off the court and for those in authority to take decisive action when faced with reports of abuse.